Reducing Plastic Pollution
We work globally to reduce plastic pollution by running campaigns and supporting projects that help to reduce the wave of plastic entering our oceans.
We encourage our supporters to hold regular beach and river cleans near their homes or work places throughout the year. Each year, we hold our annual Global Beach Clean. In 2021, more than 60 clean ups were held around the global from Melbourne to California and everywhere in-between!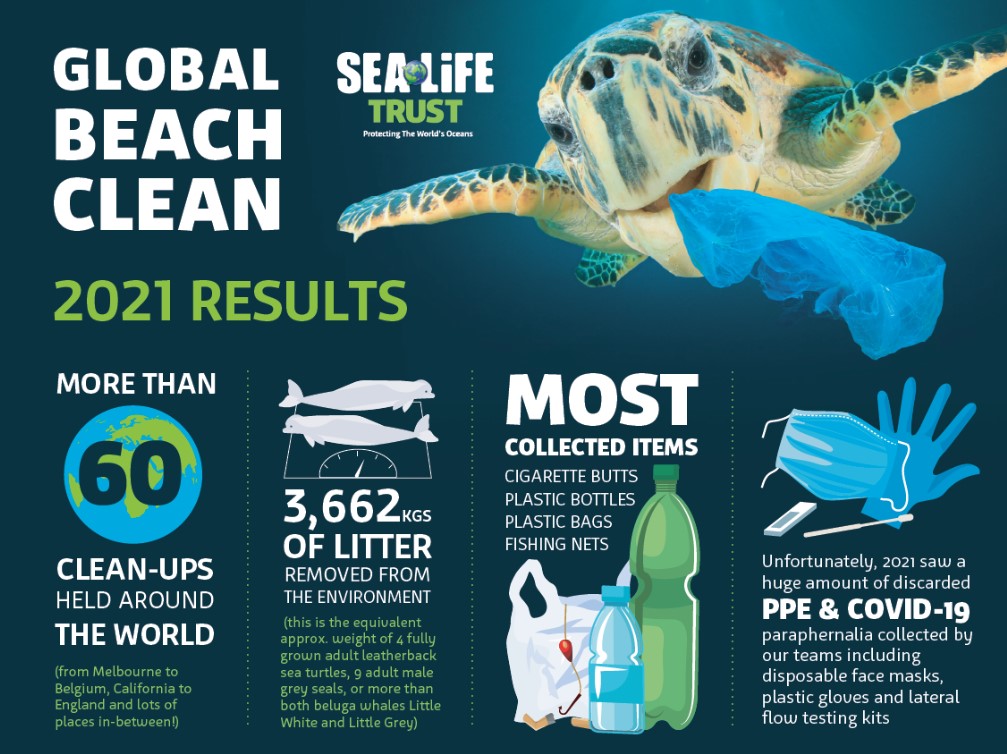 In Australia we funded a research programme into the effects of plastic pollution on the sea turtle population. 80% of turtle hatchlings washed up and subsequently studied were found to have plastic in their stomachs. The plastic cannot be digested and causes the tiny turtles to starve to death.
Increasing Marine Protection
We want our oceans and the amazing wildlife they contain to be properly protected! The SEA LIFE Trust has campaigned for the creation of more Marine Protected Areas (MPAs) across the world and works to highlight how MPAs benefit marine habitats, wildlife and sea users. We successfully campaigned to then President Obama for two dedicated MPAs in the USA.
Removing Ghost Gear
Lost fishing gear, also known as ghost gear or ghost nets, is said to be one of the greatest killers in our oceans, and not only because of numbers. It's reported that hundreds of kilometres of nets and lines are lost every year and, due to the nature of the materials used to produce these products, they can and will keep fishing for years, decades and possibly centuries.  Marine life including diving birds, crabs, fish,turtles and seals are caught in ghost gear and, if they can't untangle themselves, either drown or starve to death.
We have previously worked on ghost gear removal projects in the Maldives and are now working with Ghost Fishing UK to remove ghost gear from around the UK's coastline. In just five days over the summer, a team of volunteer divers removed a massive 540 kilogrammes of ghost gear from the south Cornish coastline!
Reducing Turtle Bycatch Rates
We worked to significantly reduce the turtle bycatch figures by funding a ground-breaking project in Peru. The innovative, but simple LED light illumination on gillnets reduced the turtle bycatch in the project area by 100% - without impacting on the daily fish catch targets.